The Wintec Saddles you know and love... JUST GOT BETTER!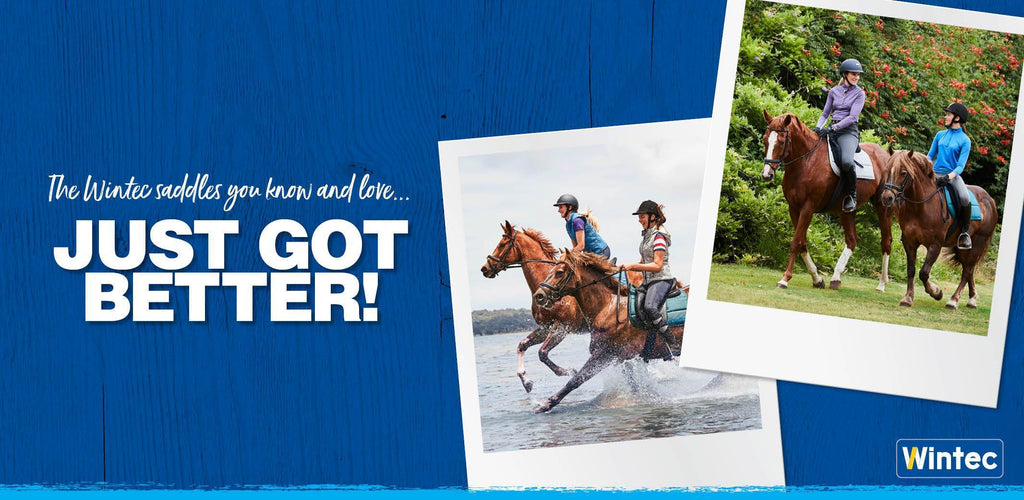 Available NOW from leading retailers throughout the United Kingdom, the NEW and IMPROVED range from the world's favourite synthetic saddle brand!
Combining hard-wearing materials with best-in-class technology, the range of new and improved Wintec saddles now has something for every discipline, conformation, and budget.
NEW Specialist conformation saddles for your high withered or wide horse!
NEW Wintec 2000 High Wither All Purpose saddle – perfect for those high-wither thoroughbreds!
NEW Wintec 2000 Wide All Purpose – now a grippy saddle to suit your wide cob!
NEW Wintec 500 SC All Purpose - for more freedom!
NEW Wintec Pro Wide Dressage – finally, a grippy dressage saddle to suit your wide dressage horse!
IMPROVED comfort on your trusted favourites:
Next level rider comfort with soft seats that feel close and secure
Next level connection with a saddle flap that contours around your horse, channeling your thigh for improved contact
Super soft panels, mould in and around your horse's working muscles for a closer, more stable fit – simply the perfect facilitator of CAIR
New, modern look with the choice to feature a pop of colour with a changeable stirrup keeper that celebrates being a Wintec rider
Horse and Rider Technology: There are so many features and systems in saddles that can deliver a transformative result for both horse and rider. We've made it simple and taken the best of the best when it comes to Horse and Rider Technology, for a gold standard in horse and rider comfort you can trust… we call this HART.
The Wintec Saddles you know and love, JUST GOT BETTER!
The new and improved range of easy-care, weatherproof Wintec Saddles is available NOW. Find your nearest retailer and join the revolution… just in time for the winter weather!
0 comments